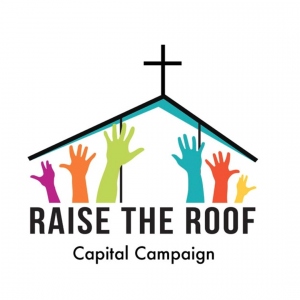 Dear Friends of Christ Lutheran Church, it's time to Raise the Roof!

What is Raise the Roof?
Raise the Roof is a capital campaign funding the replacement of roofs in our church complex. Many of our buildings have flat roofs. These roofs have leaked for years. In June 2017, the church committed itself to replace the flat roofs with slanted roofs. These roofs should be a 35+ year fix and fix our leaks.

Why Raise the Roof right now?
Our property is a gift from God. We are called to manage and use this piece of property to live generous and giving lives. When our roofs leak, we are unable to show hospitality to all the different groups who use your facility. Our Sunday School classrooms are not currently in use because of the leaks. There are concerns our annual Trash and the Treasure Sale might have major issues if our fellowship hall couldn't be used. A new roof gives us new opportunities to further God's kingdom in new and exciting ways.

What is our financial goal?
We are committed to raising $150,000 through December 2019.

How much will this cost?
We set aside $300,000 for this project. Initial funding will come from taking loans from our long term investments and other resources. The $150,000 will repay any funds taken from our long term investments.

When will the roofs be replaced?
Work will begin the week of October 23, 2017. We expect work to be complete by Christmas 2017.

What is the current status of the project?
This space will be reserved to give updates on the project.

October 9 Update: Permits from the town have gone through. Our builder has made the necessary measurements. We expect work to begin the week of October 23. Pledge cards and donations to the campaign continue to arrive everyday.

September 27 Update: Contract is signed and work will start soon! Permits are being applied and our builder is working with the city of Woodcliff Lake. Once some final measurements are done, an order for materials will be placed. Those will arrive on site in three to four weeks.

What is the current financial pledges and giving?
11 pledges for $8,650 (as of October 11, 2017)

$2,825 donated (as of September 30, 2017)

I will like to know more. Where can I find more information?
This slideshow was shared at our June 2017 meeting. It contains images of current damage, ideas for funding, and more. The information shows an initial funding idea of $250,000. During the meeting, the congregation increased that amount to $300,000.

This is an FAQ we mailed out in September 2017.

This is the initial pledge letter we mailed in September 2017.
Great! How do I give?
First of all, pray, pray, pray! Review the information on this website. If you are local, please walk around the buildings to see the damage. The church will give you any accurate and relevant information to assist you in your decision-making. We know everyone's circumstance is different and invite you to give a gift born out of faith. Can you give $20 a month? A one time gift of $500 or $1000 or $10,000?

Your gift can be given at anytime by mailing a check to the church office, dropping one off during worship, or clicking here to give electronically through your checking acount. If you have any questions or want to talk about what you can give, please call Pastor Marc at 201-391-4224.