For 2016-2017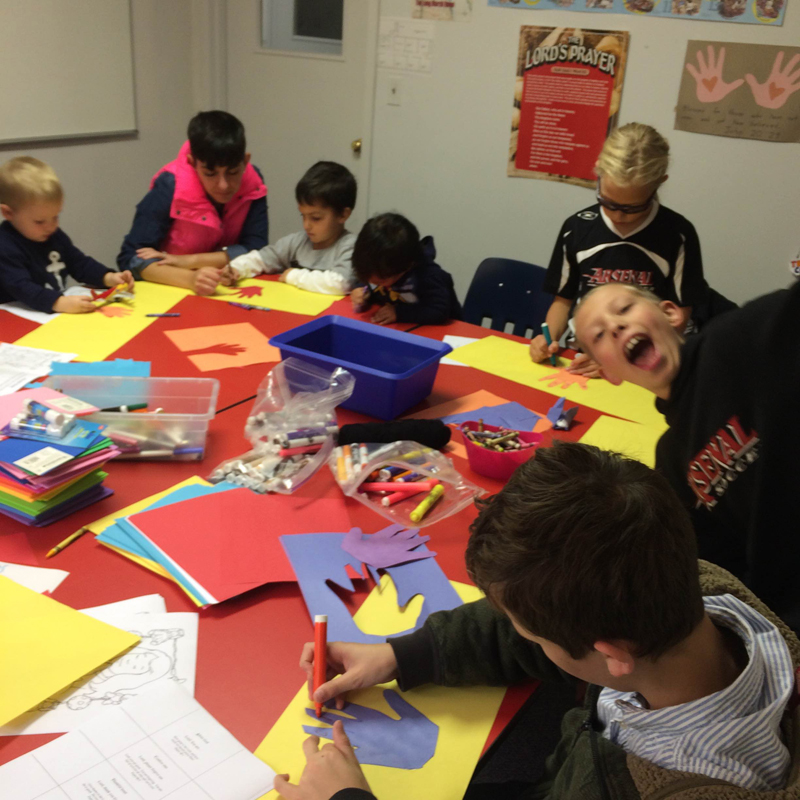 Thank you to everyone who participated in our 2016-2017 Sunday School! Our last session was June 4. We will start again in the fall.

We're excited about another year to grow together in our faith as beloved children of God. Our Education Committee and Sunday School teachers have been busy developing a new program to better meet the needs of the children and our families. We're going to experiment with a new model, meeting 2 Sundays a month, and grow our faith in new ways.
Sunday Schedule
Contemporary Worship 9 am (we'll introduce our lesson for the day!)
Sunday School Instruction 9:45 am to 10:30 am (classes, teaching, crafts, song, and more!)
Each month, we'll focus one Sunday on a service project to benefit others outside our community.

We're changing our schedule for Sunday School to give the kids and the teachers more time to discover Christ's love for them. What we learn in Sunday School will begin in our 9am Contemporary Worship. Our lesson will be read and acted out in a more engaging and intergenerational way. We'll invite children, parents, and others to lead these mini-one act plays. After we celebrate Communion, we'll bless our students, setting the tone for the lessons that follow. Teachers and class will then spend their time together exploring what they heard and what these stories mean to them. We're no longer trying to make Sunday School fit between our two services. Instead, Sunday School will meet for 45 minutes, filled with crafts, lessons, and music. We're also inviting parents to join us for these sessions with intergenerational activities to connect families together.

Class Calendar
September 25 - How to Talk about Faith at Home - a Workshop
October 2 - Service Project - a Bake Sale to support our Food Packing event on October 16
October 16 - How to Pray
November 6 - All Saints' & Remembering
November 20 - Sing! And prepare a Reverse Advent Calendar
December 4 - Prepare
December 18 - Almost here (i.e. Christmas)
January 8, 2017 - Slip 'n Baptize
January 22 - A Job to Do
February 5 - Salt & Light
February 19 - Love through Teddy Bears
March 5 - Want me to do what?
March 19 - You Can Tell!
April 2 - Come out!
April 16 Easter - our Annual Breakfast
May 7 - Baaaaa!
May 21 - Sending Us Out!
June 4 - Pentecost Last Day of Sunday School

As a way to support this new experiment and to increase the number of kids who are able to attend Sunday School, we're no longer meeting every week. We want to focus this experiment on two Sundays a month (First and Third except for January which will meet on the 2nd and 4th Sunday). One of the Sunday's each month will be reserved for a special community project. From hosting a bake sale to raise money for our God's Work, Our Hands event to delivering teddy bears to local nursing homes, the students will live their faith out loud.

Our faith development happens everyday. We have a living God which means our daily experiences matter to our faith. As a way to help our families grow in their faith together, we're embracing "Faith 5:" five things we can do everyday to grow the faith life of our families. Faith Five (www.faith5.org) is a faith practice system that takes ten to fifteen minutes a day and can be used by families at all ages. Through story, sharing, prayer, and blessing, we learn God's story and see how God's story informs our own. Pastor Marc will write weekly devotions that unpack the main story we hear on Sunday, giving parents some direction for what the story is about. They're printed in the bulletin and located here. We'll post a weekly Facebook post asking families practicing Faith 5 to share what they're discovering. We'll support each other as we all gain new habits of faith connecting with a God who is always connected to us.