Education and Programs for Kids and Youth
Sunday School For 2017-2018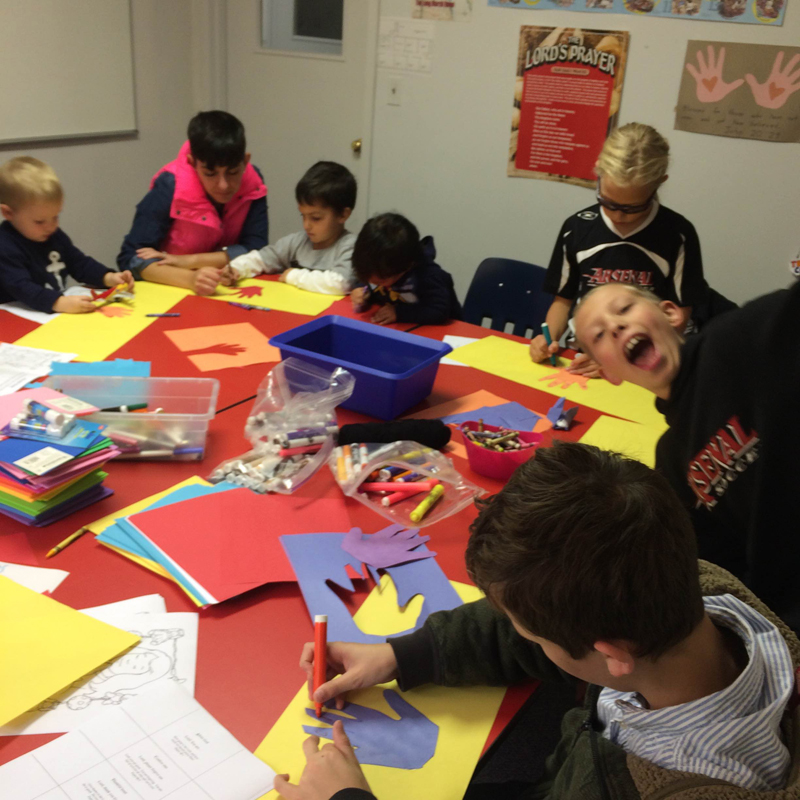 We're excited about another year to grow together in our faith as beloved children of God. Our Education Committee and Sunday School teachers are here to meet the needs of the children and our families. Faith is formed in the home and refined when we worship and learn together! Sunday School is one way we share Jesus and help our kids share Jesus each and every day
Sunday School Meets Twice a Month. Here's how Sunday works on those days:
Contemporary Worship 9 am (we'll introduce our lesson for the day!)
Sunday School Instruction 9:45 am to 10:30 am (classes, teaching, crafts, song, and more!)
Each month, we'll focus one Sunday on a service project to benefit others outside our community.

We're changing our schedule for Sunday School to give the kids and the teachers more time to discover Christ's love for them. What we learn in Sunday School will begin in our 9am Contemporary Worship. Our lesson will be read and acted out in a more engaging and intergenerational way. We'll invite children, parents, and others to lead these mini-one act plays. After we celebrate Communion, we'll bless our students, setting the tone for the lessons that follow. Teachers and class will then spend their time together exploring what they heard and what these stories mean to them. We're no longer trying to make Sunday School fit between our two services. Instead, Sunday School will meet for 45 minutes, filled with crafts, lessons, and music. We're also inviting parents to join us for these sessions with intergenerational activities to connect families together. Our Elementary Age Class (EAC) will follow the lessons we cover in worship each Sunday including the story of Christmas, Holy Week, Jesus' famous parables, and more. Our Pre-K/K (K) class will come up with a theme soon.

Class Calendar (complete schedule coming soon)
October 1 - Start of School!
Class Topics: (EAC) -
It's not only what we say, but what we do.

October 15
Class Topics: (EAC) - God says, "Come to my party!"
November 5
Class Topics: (EAC) - Jesus says smaller is bigger.
November 19
Class Topics: (EAC) - Give your best to God.
December 3
Class Topics: (EAC) - God picks up the pieces.
December 17
Class Topics: (EAC) - Come one, come all and hear Jesus' call.
January 7, 2018
Class Topics: (EAC) - God loves Jesus, the Son.
January 21
Class Topics: (EAC) - We can't hide from God.
February 11
Class Topics: (EAC) - Jesus is extraordinary!
February 25
Class Topics: (EAC) - God has a big plan.
March 11
Class Topics: (EAC) - Let me tell you about Jesus.
March 25
Class Topics: (EAC) - Here comes Jesus!
April 8
Class Topics: (EAC) - Show and tell about Jesus.
April 22
Class Topics: (EAC) - We can tell others the good news of Jesus.
May 6
Class Topics: (EAC) - God for you; God for me.
May 20
Class Topics: (EAC) - Share the Spirit
June 3
Class Topics: End of the Year Celebration
Who can attend?
We have two groups. Our Pre-K/K group starts at age 2. We invite parents to join their kids in that class. Our Elementary Age Class meets for 1st graders through 6th.
Confirmation for 7th/8th graders
What Is Confirmation?
Confirmation is an educational ministry helping the baptized young person participate more fully in their Christian life. In a community of support and acceptance shared with the pastor, volunteers, peers, Confirmation help the young person identify with the church and their own faith. We worship, learn, study, serve, and grow! The two year program is a commitment to walk with the Holy Spirit as we learn that faith isn't a destination but a journey with Jesus. The culmination of our time together is a public profession of faith called "Affirmation of Baptism." In preparation for this public statement of faith, students spend time together in Confirmation classes, service projects, and time together.

Confirmation is more than a membership class; we become members of God's family and the Church in Holy Baptism. Confirmation is rooted in the theological, testifying to our lived human experiences where the Spirit is identified, named, and shared. Confirmation is an opportunity to say "YES!" to spirituality, faith, and to God's grace-filled acts which have already been done on our behalf.

Some quick highlights for 2017-2018!
1) We're partnering with Prince of Peace Lutheran Church in Old Tappan and Christ Lutheran Church in Paramus. Pastor John Holliday from PoP, Pastor Hayley Bang from CLC-Paramus, and Pastor Marc will co-lead our combined classes.
2) Classes meet Sunday night 6:30 pm - 7:45 pm (unless noted)
3) First Class is Sunday, September 24.
4) Confirmation for 2018 will be Pentecost, Sunday May 20.

CONFIRMATION SCHEDULE FOR 2017-2018: THE BIBLE
Classes meet on Sunday night from 6:30pm to 7:45pm unless otherwise noted.

September 24
October 8
October 22 - Sunday Reformation Hymn Fest at Good Shepherd in Pearl River
November 5
November 12
November 19 - Interfaith Worship - meet at 7 pm at St. Paul's, Montvale
December 3
December 17
January 7
January 21
February 4
February 11
March 4
March 18
April 15
April 29 - Trip to the Cloisters in New York
May 6
May 20 - Confirmation during worship!
Youth Group: Programs for High School Kids
YOUTH STUDY: UNPLUGGED DISCONNECT, RECONNECT
Luke 9: 35: A voice came from the cloud, saying, "This is my Son, whom I have chosen; listen to him."
Come join us for our monthly Bible Study where we will read, discuss and have some fun learning "The Parables of Jesus". Open to all adults and high school youth (grade 9 and up). Friends are always welcome! Stay tuned for more information in the fall of 2017. First class is tbd.

THE BREAKFAST CLUB
John 21: 12: Jesus said to them "Come and have breakfast."
Break your fast with Sunday morning fellowship! Key ingredients – Faith, Hope and Christian Love –blend unique individuals and simmer. Mix in some tasty treats. Serve with a touch of Grace. This is a youth led gathering that will meet on Sunday mornings for topical discussions, projects, future planning and fun fellowship. All high school youth are invited (grades 9 and up). Returning college students and young adult members are always welcome. First Meeting is Sunday, October 1 at 10 am.

TASK FORCE
John 20: 21: Again Jesus said, "Peace be with you! As the Father has sent me, I am sending you."
Taking our faith out into the community! CLC Youth Ministry will be looking for ways that youth can serve others in our community. If you have ideas for service projects where our youth can get involved, please let us know!
OUT OF THE BOX
Ecclesiastes 3: There is a time for everything, and a season for every activity under the heavens: a time to weep and a time to laugh, a time to mourn and a time to dance
Time to have some fun? We look for opportunities to allow our youth to bond and come to know each other in fun and active settings - Among the Wolves, Winter Youth Assembly, ELCA Youth Gathering Houston in 2018, and local day/evening trips, hikes, concerts and movies – anything that gives our youth a chance to reconnect and recharge. Please contact us if you would like to help plan, coordinate or participate in any of these types of events.

CLC YOUTH TO THE ELCA YOUTH GATHERING IN 2018
We're sending
youth to the ELCA Youth Gathering Houston in 2018. Over 30,000 youths from all over the country will attend. It is an amazing experience that you won't want to miss. All who will be in high school in 2018 (including rising freshmen and those who just graduated) will be able to attend.

Visit our special Youth Group website with links to images of what we've done (and where we're going from here!)
Vacation Bible School
Each summer we host a Vacation Bible School at the church. In 2017, our theme was Hero Central: Discovering Our Strength in God. Check out more information about that program here.