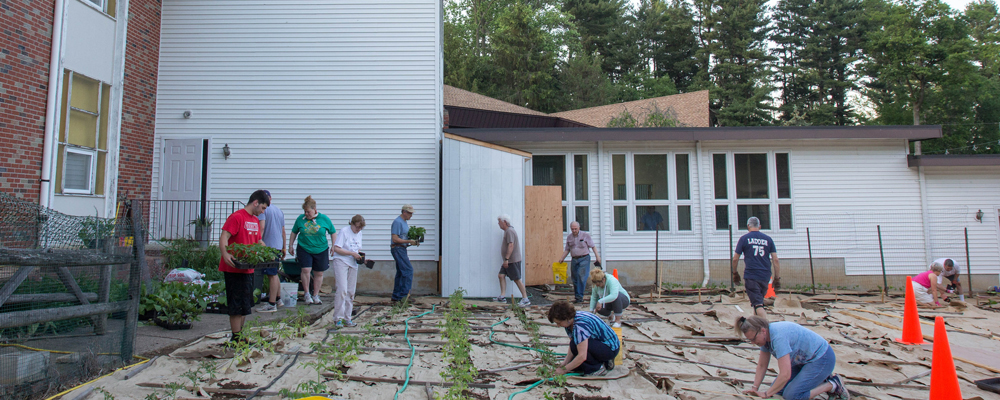 Craig Moorman, a former intern, used to gaze out of his office window at the bare area and pictured a vegetable garden growing there. A garden committee was formed by the Care Chairman at the time, Doris Crouse, and ground was broken on November 18, 1984. Bob VanZee grew some plants under fluorescent lights in his basement in the spring of 1985. Some local garden centers assisted us with additional plants at wholesale prices.

Joan and Carl Palermo were the first garden leaders and shepherded through the first few years. Many people, young and old, helped plant, weed and harvest the vegetables. Each year, volunteers continue to do the same. The produce is sent to the Center for Food Action in Englewood to help feed the hungry in Bergen County.

In our 32nd year of the Garden, the Genesis Garden Committee is led by Jim Christensen. Special thanks to
Christensen Landscaping
for tilling the land,
Sunden's Stone Pointe Farm
for donating the plants, and the dedicated volunteers who share Christ's love one tomato, zucchini, and pepper at a time.

2017: Join us every Tuesday night starting at 6:00 pm (Except July 4 - we'll meet on Wednesday that week!)

2017's Crop: 1163 lbs. (12 weeks of picking).
2016's Crop: 995 lbs! We also caught (and graciously relocated) 6 groundhogs this year.
2015's Crop: 1522 lbs! We also installed a new shed after the season ended.

Come to harvest, weed, and keep the plants growing.
Contact the church office to help deliver the goods during the week
.
Some images from our 2017 Season
| | | | | |
| --- | --- | --- | --- | --- |
| Blessing of the Garden - 2017 | Blessing of the Garden - 2017 | Blessing of the Garden - 2017 | | |
| Garden - Late June | Garden - Late June | One of our volunteers! | | |
| First bags set for delivery. Almost 70lbs! | Some volunteers holding our new crop | In the truck, ready for delivery! | | |
| A white eggplant in our garden. | A zucchini over 3 lbs! | 113 lbs off to CFA! | | |